Mutant Hijacker
""
Faction
Forgotten
Cost
1500
Produced By
Mutant Hovel
Build Time
{{{build time}}}
Role
Vehicle stealing
Armament
EMP Bombs
Upgrades
N/A
Abilities
Hijack Vehicle

Heal in Tiberium

EMP Grenade

Requirements
Any Tech Building
The Hijacker is the
Forgotten's
most cunning unit. The Hijacker is more of a danger to vehicles than even
Mastodons
.
Tiberian Sun
Edit
In Tiberian Sun, the Hijackers served in Nod's army. They were trained as spies but also for "freeing" hostile armies of their vehicles. After the Second Tiberium War, they left with the rest of the Forgotten to the hostile wastelands of the Red Zones.
Tiberium Essence
Edit
In Tiberium Essence the Hijacker has the abillity to capture enemy vehicles for their commanders to use. They can also use EMP Grenades to disable enemy armor faster than themselves or too dangerous to approach in order to hijack it.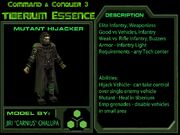 Ad blocker interference detected!
Wikia is a free-to-use site that makes money from advertising. We have a modified experience for viewers using ad blockers

Wikia is not accessible if you've made further modifications. Remove the custom ad blocker rule(s) and the page will load as expected.