The Mammoth Tank is GDI's heaviest mass-produced ground vehicle. Due to the large gap between the Mammoth Mk.II and the Titan walker, GDI comissioned an update to the old X-66 Mammoth Tank to fill the gap. This led to the birth of Mammoth Mk.III.
Tiberium Essence
Edit
The Mammoth Tank in Tiberium Essence has a slightly different model from vanilla C&C3. The Mammoth Tank is the heaviest non-epic unit in the game, enabling it to take lots of strong hits before being destroyed. Its cannons are incredibly strong as well, making it the perfect face-to-face battle unit. Its rocket pods also supplement the Mammoth's attack power, while also making it able to attack enemy aircraft (however, they are too slow to destroy hit-and-run aircrafts). When upgraded with Railguns the Mammoth's weapons pack much stronger hits, while never missing any targets even as small as infantry units. Thanks its big size, it can simply drive over smaller ground vehicles and crush them.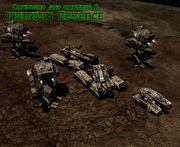 Ad blocker interference detected!
Wikia is a free-to-use site that makes money from advertising. We have a modified experience for viewers using ad blockers

Wikia is not accessible if you've made further modifications. Remove the custom ad blocker rule(s) and the page will load as expected.