Mastermind
Faction
Scrin
Cost
2500
Produced By
Portal
Build Time
{{{build time}}}
Role
Special Forces Infantry
Armament
Mind Blast (Ability)
Upgrades
-
Abilities
Mind Blast

Manipulate Device Teleport Allied Units

Requirements
Technology Assembler
Masterminds
are the the
Scrin
commandos.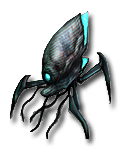 Tiberium Essence
Edit
The Mastermind has the ability to mind control any enemy unit, apart from epic units and superweapon buildings. However, the ability has a long cooldown time, and the Mastermind has to retreat while the ability recharges if the controlled unit is destroyed too soon. It is very agile, and can easily evade direct combat, leaving its mind controlled slave to do the fight. It is also a valuable support unit, as it can teleport allied units to any place within its sight. In Tiberium Essence, it also gained the ability to use a Mind Blast, which can kill large groups of infantry around the Mastermind.
The Mastermind's Mind Blast ability is similar to the Psi Commandos' Psychic Blast ability from Red Alert 2.
Ad blocker interference detected!
Wikia is a free-to-use site that makes money from advertising. We have a modified experience for viewers using ad blockers

Wikia is not accessible if you've made further modifications. Remove the custom ad blocker rule(s) and the page will load as expected.