Repair Bay
Faction
Neutral
Cost
-
Produced By
-
Build Time
N/A
Role
Neutral repair structure
Armament
-
Upgrades
-
Abilities
-
Requirements
-
A Repair Bay is a neutral structure that, when captured, deploys drones that repair its owner's vehicles.
Tiberium Essence
Edit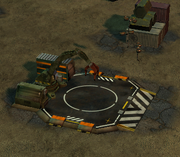 A Repair Bay is an original tech structure in
Tiberium Essence
. When captured, it automatically repairs its owner's vehicles when they are nearby using repair drones. It also grants access to the Reconstruction Drones power, which deploys a group of repair drones at the targeted area through the use of an aircraft similar to an
Orca Rig
.
Ad blocker interference detected!
Wikia is a free-to-use site that makes money from advertising. We have a modified experience for viewers using ad blockers

Wikia is not accessible if you've made further modifications. Remove the custom ad blocker rule(s) and the page will load as expected.