The
Scarab APC
is the successor of the Subterranean APC used in the Second Tiberium War.
Tiberium Essence
Edit
The Scarab lacks any weaponry of its own, unlike its GDI counterpart, but it still includes firing ports that allow occupying infantry squads to fire from them and can also lay a small minefield. After being equipped with the Drilling Mechanism upgrade from the Tech Lab, it can travel underground, which permits it to move almost instantly across the battlefield, as well as crushing heavy enemy infantry like GDI Zone Troopers, Stalwarts and hostile cyborgs.
The Scarab has the voice of Reckoner from C&C3 Kane's Wrath.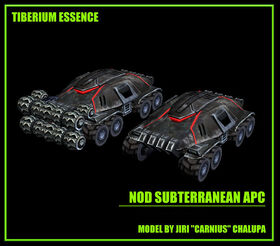 Ad blocker interference detected!
Wikia is a free-to-use site that makes money from advertising. We have a modified experience for viewers using ad blockers

Wikia is not accessible if you've made further modifications. Remove the custom ad blocker rule(s) and the page will load as expected.