Home
Talk

7
231pages on
this wiki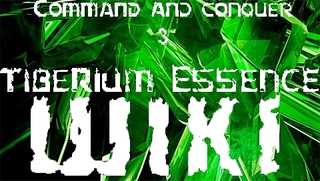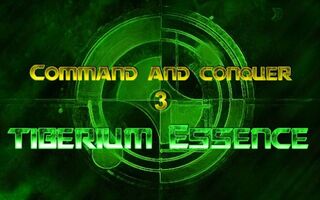 Welcome to the Tiberium Essence Wiki
Edit
This is a wiki for the hit Command and Conquer 3 mod, "Tiberium Essence." Here you can post all kinds of stuff to the wiki.
Tiberium Essence hosts its own forums right here! Check them out, provide feedback, sneak a peak at the latest developments, and find more people to play with!
Tiberium Essence 1.6 Beta Released!
Edit
Carnius, Tiberium Essence Team Leader, has released a beta version of Tiberium Essence 1.6! It is currently undergoing further testing by the team and the community! Visit the Tiberium Essence forums to post bugs, glitches, and feedback! Good hunting
Download Beta 1.6, here or here !
What Is Tiberium Essence?
Edit
Tiberium Essence is a fan made mod for EA's game known as Command and Conquer 3 Tiberium Wars. For those of you who do not know what TE (Tiberium Essence) is, here is a decription. It is a mod that brings back the most desired things from previous C&C games, such as: Blood and gore, Tiberium plantlife, correct Tiberium (plant) model, cyborgs, the iconic Titans and Wolverines, and even the mighty Mammoth MKII. If you are not convinced yet, then here are some of the good reasons to choose Tiberium Essence:
Tiberium Essence's ModDB voters' rating is a monumental 9.7! (Tiberium Essence ModDB Page)
Not only is it very well balanced among the three main factions, but it is probably the most balanced Command & Conquer mod that you can download on the web today.
It continues Tiberian Sun's storyline that everyone loved instead of the new EA storyline that just did not fit into what Westwood had planned for the C&C series and it is not what most C&C fans wanted for the series. Even if the campaign remains the same, the units and envoirment is being redesigned to better suit the Tiberium universe. Both Carnius, and his closest assistants and moderators are constantly pushing the mod to be a true continuation to Tiberian Sun. We will not stop until every problem is flattned out!
Each faction has had their own polishes and revamps.
The mod is fully compatable with the single player campaign for all three factions.
The creator, who nicks as "Carnius" on ModDB actually cares about what the users of his mod think, critique, and request him to give them, considering each request to it fullest, for balance, gameplay, or even for storyline problems.

This mods detail and quality are off the charts when compared to other Tiberium Wars mods on the net.
The mod is developed by a single guy, with assistance from a few others. Misscommunications are minimal, if they even exist.
Revamped music with new custom made tracks mixed along with a number of Frank Klepacki's iconic tracks.
It has a strong fanbase. Need help with anything? Visit the ModDB Tiberium Essence Fans (TEF) group!
Carnius does indepth testing to make sure that it is as glitch free as possible.
You can always find teammates and foes to play against, visit TEF!
Please, while you are here, browse the images, videos, and news releases to see (up to the minute) what is going on with Tiberium Essence. Feel free to go ahead and post some images or videos of your own or even maps and other addons that are made for Tiberum Essence. You could even go ahead and compete in the contests that might be going on! For more info go to the contest section of the forums
Thanks for coming to our Wiki, and for checking out Tiberium Essence!
Latest activity
Edit
This is where you can see everything that has been happening on the wiki lately. We at Tiberium Essence Wiki advise you to check this area often because it changes daily and is the easiest way to know what is going on around the wiki.